Mitsubishi Electric expands Silicon Carbide power device lineup with industry standard package dual device
Newly designed, high-performing module now available in a familiar footprint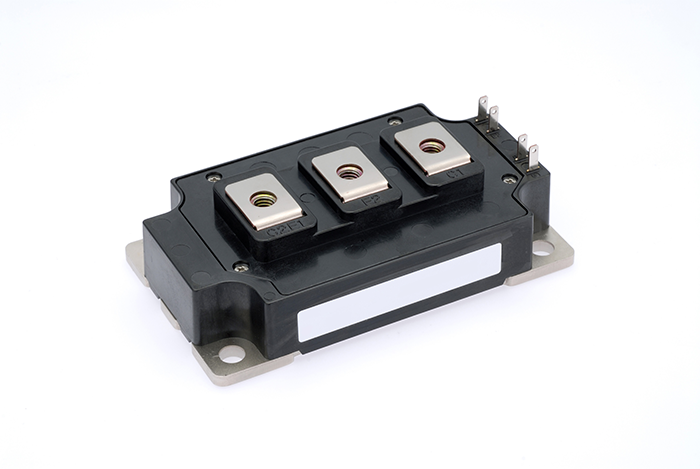 CYPRESS, California – May 11, 2022– Mitsubishi Electric US, Inc. recently launched a new Silicon Carbide (SiC) power module FMF400DY-24B. The 400A, 1200V Dual SiC MOSFET module includes an anti-parallel, low Vf, zero recovery loss, SiC SBD (Schottky Barrier Diode).
The module packages new designs into a current industry standard footprint (62mm x 108mm) for medical power supplies and general industrial applications. Designed for Vgs(on)=15V, the module is compatible with standard IGBT gate drivers and can be seamlessly incorporated into existing mechanical layouts for easy upgrades from Si IGBT technologies.
The module uses Mitsubishi Electric second generation SiC MOSFET chip technologies that are ideal for applications requiring high switching frequencies. The SiC module reduces power loss by approximately 70% compared with an equivalently rated Si IGBT.
"This new module is in a classic package footprint, with the latest technology inside for superior function and flexibility," said Adam Falcsik, senior product manager of Mitsubishi Electric US's Power Device group. "The FMF400DY-24B adds to Mitsubishi Electric's growing lineup of SiC products."
In addition to higher efficiency, the module is compliant with the Restriction of the Use of Certain Hazardous Substances in Electrical and Electronic Equipment (RoHS) directive 2011/65/EU and (EU) 2015/863 to meet critical environmental regulations. The module furthers Mitsubishi Electric's core technology vision by contributing to a smarter and more sustainable society.
For more information on Mitsubishi Electric products, view the catalog or visit our website.
About Mitsubishi Electric US, Inc., Semiconductor & Device Division
The Semiconductor & Device Division of Mitsubishi Electric US, Inc. offers a portfolio of semiconductor and electronic devices that contribute to the advancement of information processing, telecommunications and the efficient use of energy. The division's next-generation optical devices, high-frequency gallium nitride and gallium arsenide devices and silicon RF devices are used in a range of applications such as datacenters, satellite base stations and two-way radios to support today's rapidly evolving telecommunications networks. The division offers leading-edge CIS line-scan bars for industrial image output and image processing. Additionally, the division provides highly efficient power modules for both traditional and renewable energy sources that distribute power effectively and reliably and are used in industrial and automation applications, hybrid and electric vehicles, and home appliances. More information is available at https://meus-semiconductors.com/.
# # #
Media Contact:
Brooke Behunin
Mitsubishi Electric US, Inc. Semiconductor Device Division
Phone: (714) 220-6885